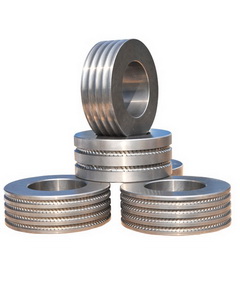 Cemented carbide rolls have good heat conductivity and they are featured by small hardness decrease under high temperature condition, thermal fatigue resistance, good wear resistance and high strength etc., which are not possessed by other materials. The rolls are primarily applied in high speed wire line, Kocks three roll mill, seamless pipe stretch reducing mill, three dimensional rolls for cold-rolled ribbed steel bar, and composite roll for hot-rolled bar screw thread steel etc.
TC roll rings dimension and precision.
TC roll rings for high speed rebar(ribbed steel bar)
TC roll rings for Kocks rolling mill
TC roll ring for cold rebar mill
Composite roll with TC rings for hot rolling bar mills,rebar mills,rod mills, from K1 to K4 stands.
The ribbed groove of composite roll with TC rings.
Lonsun TC ring production process
Lonsun TC roll ring grades
TC roll ring grade recommend application
Requirement of cooling of the TC roll ring.
If you interested in our production and need the detail catalogue, please
contact us.